Beschreibung
FROG  Flugservice is exclusively offering this exceptional off-market
Citation Jet 525, with FRESHLY OVERHAULED ENGINES
Airframe:
Serial Number: 525-0188
Registration: N525PA
Date Of Airworthiness: January 25th, 1997
Total Time: 5409 hrs as per 15 Oct 2019
Landings: 5999
Price: US Dollar 1.075.000,00 net
Verkauft !!

Here you can open, print and / or download the object description: product description as pdf-file
Please note: Some browser installations do not always allow direct printing. In this case, a download with subsequent printout from a pdf reader (eg Foxit or Acrobat) solves the problem.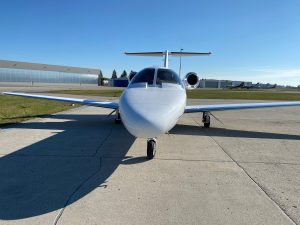 Enrolled in CESCOM, EU-OPS 1 certified, P-RNAV, WAAS-LPV, No Damage History. No Engine Program. TBO 3500h. Fully EASA compliant, was Austrian registered.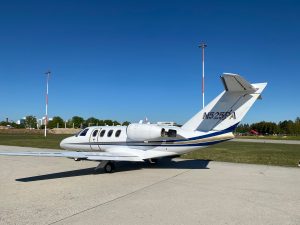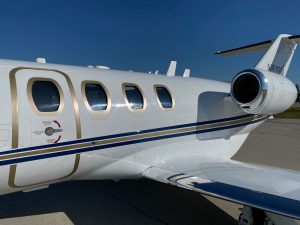 Engines:                              Two Williams FJ-44

Engine #1                             3105,1 h TSN, 2863 cycles, 3485 h remaining to OVH

Engine #2                             3119,0 h TSN, 2838 cycles, 3485 h remaining to OVH

The engines are not on any engine program, but have been overhauled by Williams August 2019. Have been running 15 hours since and can be enrolled into the TAP Blue program, TBO then 4000h.
Avionics:
Sperry EADI/EHSI left, fully switchable
Dual Garmin GTN 750 FMS/Comm/Nav/ILS, LPV capable, PRNAV
Dual King KN-63 DME
Dual Garmin GTX-330D Mode S Diversity Transponders, WAAS, ADS-B out
King RDR-2000VP Color Radar with BFGoodrich WX-950 Storm Scope
GMS/XLS FMS with Shadin Air Data
King KR-87 ADF
King KRA-405B Radio Altimeter
Artex C406-2 ELT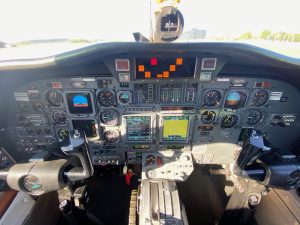 Paint and Interior:
Overall body White with Silver and Blue stripes, condition 7/10
Light grey 5 place passenger interior with forward RH side facing seat (overhauled 2019), 4 place center club seating, belted lavatory ( approved as 6th seat). Condition 9/10.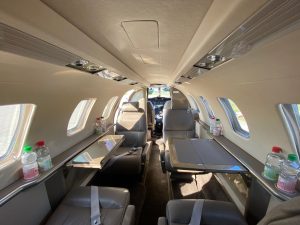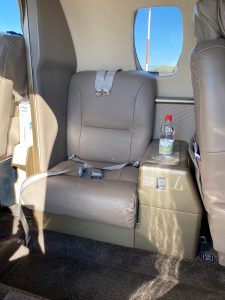 Additional features:
Engine Synchronizer
Crew Oxygen Full Face Masks with EROS Smoke Goggles
50 cu ft Oxygen Bottle
Angle of Attack
44 Ampere large battery
Always hangared, professionally flown, no damage history, complete documents. No open maintenance items. Available immediately.
For details contact Dr. Martin Altmann, mobile +49-170-6778833, martin@froggy.de

Offer subject to errors and changes without notice

 
Price:
USD 1,125,000. Subject to withdrawal from the market without specific notice. If applicable, VAT has to be added to sales price, if appliccable.
For details contact Dr. Martin Altmann, mobile +49-170-6778833, martin@froggy.de
Offer subject to errors and changes without notice