Beschreibung
FROG Flugservice GmbH
Schmitzlödericher Strasse 42, Postfach 5253, D-51491 Overath, Germany
Telefon +49-2204 74033, Telefax +49-2204 74032
e-mail: jetsales@froggy. de
"Young" Citation Jet CJ 2 plus, low time, fresh doc 10 inspection
Verkauft !!
Asking price US Dollar 3.825.000,00 (plus VAT, if applicable)
Please click on the following picture to display the documents for this property and, if desired, to download them >>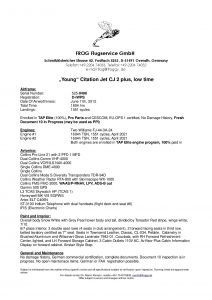 Please note: Some browser installations do not allow direct printing in any case. In the event of an error, it will help you to download the file and print out the document with the help of a PDF reader.

For further details contact Dr. Martin Altmann, mobile +49-170-6778833, martin@froggy.de
Offer subject to errors and changes without notice

Engines: Two Williams FJ-44-3A-24
Engine #1:  1604h TSN, 1551 cycles, April 2021
Engine #2: 1604h TSN, 1551 cycles, April 2021
Both engines are enrolled in TAP Elite engine program, 100% paid in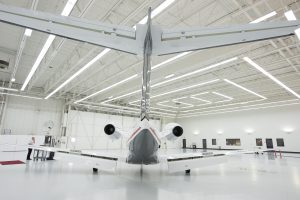 Airframe:

Serial Number:
Registration:
Date Of Airworthiness:
Total Time:
Landings:

525-

0496
D-IWPS
June 11th, 2012
1604 hrs
1551 cycles

Enrolled in

TAP Elite

(100%)

, Pro Parts

and CESCOM, EU-OPS 1 certified, No Damage History,

Fresh
Document 10 in Progress (may be used as PPI)

Avionics:
Collins Pro Line 21 with 2 PFD 1 MFD
Dual Collins Comm VHF-4000
Dual Collins VOR/ILS NAV-4000
Single Collins DME-4000
Single Collins
Dual Collins Mode S Diversity Transponders TDR-94D
Collins Weather Radar RTA-800 with Stormscope WX-1000
Collins FMS FMC-3000, WAAS/P-RNAV, LPV, ADS-B out
Garmin 500 GPS
L3 TCAS Skywatch HP (TCAS 1)
Honeywell MK VIII EGPWS
Artex ELT C406N
ST-3100 Iridium Telephone with dual handsets (flight deck and seat #6)
IFIS (Electronic Charts)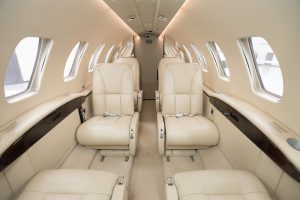 Paint and Interior:
Overall body Snow White with Grey Pearl lower body and tail, divided by Toreador Red stripe, wings white,
7/10.
6/7 place interior, 3 double seat rows (4 seats in club arrangement), 2 forward facing seats in third row,
belted lavatory certified as 7th seat. Seats in Townsend Leather, Classic, CL-034, Pebble. Cabinetry in
Brushed Aluminium and Wilsonart Gloss Laminate 7942-01, Cocobala, with RH Forward Refreshment
Center, lighted, and LH Forward Storage Cabinet. 3 Cabin Outlets 110V AC. AvVisor Plus Cabin Information
Display on forward cabinet. Airstair Style Step.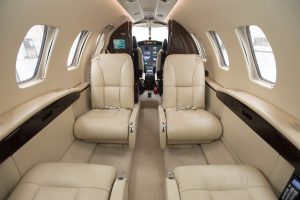 General and Maintenance:
No damage history, German commercial certification, complete documents. Document 10 inspection is in
progress. No open maintenace items. German or FAA registration possible.

Subject to withdrawal from the market without specific notice and all specifications subject to verification upon inspection. Running times are approximate
values.
For details contact Dr. Martin Altmann, mobile +49-170-6778833, martin@froggy.de
Offer subject to errors and changes without notice